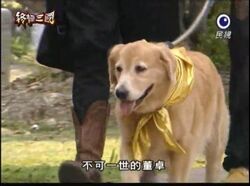 The 87th episode of the Zhong Ji series.
Episode Information
Edit
Series: K.O.3an Guo
Season: 01
Episode No. 11
Chinese: 第十一回
Original Airdate: May 08, 2009 / May 09, 2009
Previous Episode: 10th Round
Next Episode: 12th Round
With some large help from Sun Shang Xiang, Guan Yu and Cao Cao are both spared from a death sentence. Dong Zhuo swaps souls with a dog after he attempted to attack Zhang Bao but got interrupted by the dog. Lu Bu returns. Sun Shang Xiang, shortened "Ah Xiang", transfers to Dong Han Academy, and Xiu/Liu Bei looks pleased. Meanwhile, Cao Cao begins to reveal a darker side of himself as he takes on the responsibilities of a principal now that Dong Zhuo is a dog and Wang Yun is in coma.
External links
Edit
Ad blocker interference detected!
Wikia is a free-to-use site that makes money from advertising. We have a modified experience for viewers using ad blockers

Wikia is not accessible if you've made further modifications. Remove the custom ad blocker rule(s) and the page will load as expected.