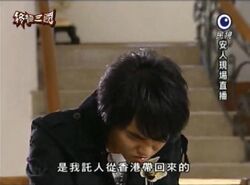 The 90th episode of the Zhong Ji series.
Episode Information
Edit
Series: K.O.3an Guo
Season: 01
Episode No. 14
Chinese: 第十四回
Original Airdate May 29, 2009 / May 30, 2009
Previous Episode: 13th Round
Next Episode: 15th Round
Sun Shang Xiang has been taken back to her home. It reveals she is trying to avoid a marriage that she unintentionally accepted when she was young. Xiu/Liu Bei becomes so heartbroken that he eventually suffers from heart attacks whenever someone mentions the word "xiang". Everyone encourages Xiu/Liu Bei to chase Ah Xiang back. Meanwhile, Sun Ce; the alternate counterpart of Da Dong and Xia Tian appears. Cao Cao has a new hair cut.
External links
Edit
Ad blocker interference detected!
Wikia is a free-to-use site that makes money from advertising. We have a modified experience for viewers using ad blockers

Wikia is not accessible if you've made further modifications. Remove the custom ad blocker rule(s) and the page will load as expected.