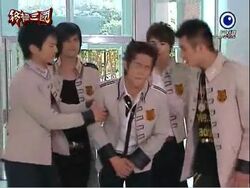 The 94th episode of the Zhong Ji series.
Episode Information
Edit
Series: K.O.3an Guo
Season: 02
Episode No. 18
Chinese: 第十八回
Original Airdate June 26, 2009 / June 27, 2009
Previous Episode: 17th Round
Next Episode: 19th Round
To exonerate Diao Chan's name, Ah Xiang arranges a lie-detecting activity in the school to catch the culprit, who turns out to be Xun Yu. Meanwhile, Guan Yu drinks a memory-loss potion and forgets his promise to Dong Zhuo, and, to his dismay, Diao Chan. In order for him to remember everything again, his friends and enemies plot to restore his memories by making him urinate, which will automatically reverse the effect. Everyone works hard for midterm to make sure they won't be exiled from the school. In the end, only Zhang Fei and Xiao Qiao fail.
External links
Edit
Ad blocker interference detected!
Wikia is a free-to-use site that makes money from advertising. We have a modified experience for viewers using ad blockers

Wikia is not accessible if you've made further modifications. Remove the custom ad blocker rule(s) and the page will load as expected.