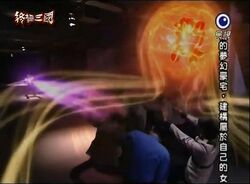 The 95th episode of the Zhong Ji series.
Episode Information
Edit
Series: K.O.3an Guo
Season: 02
Episode No. 19
Chinese: 第十九回
Original Airdate July 2, 2009 / July 3, 2009
Previous Episode: 18th Round
Next Episode: 20th Round
Dong Zhuo turns the world against Principal Wang. Principal Wang suggests the Five Tiger Generals find proof in the principal's office in order to turn the authorities to their favor, but Dong Zhuo is already expecting them and a huge battle erupts. They are at disadvantage until Xiu/Liu Bei uses his powers to fend him off. The Five Tiger Generals and Xiu/Liu Bei's lives are put at risk when Dong Zhuo makes an activiity to choose twelve warriors to fight against the soldiers of Nan Xiong Nu High School and Bai Po Huang Jin High School, who have invaded He Dong Institute during his absence. Meanwhile, Lu Bu and Guan Yu suffer from internal injuries of Zhen Cha Jing. 
External links
Edit
Ad blocker interference detected!
Wikia is a free-to-use site that makes money from advertising. We have a modified experience for viewers using ad blockers

Wikia is not accessible if you've made further modifications. Remove the custom ad blocker rule(s) and the page will load as expected.