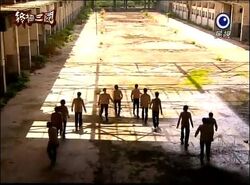 The 96th episode of the Zhong Ji series.
Episode Information
Edit
Series: K.O.3an Guo
Season: 02
Episode No. 20
Chinese: 第二十回
Original Airdate July 10, 2009 / July 11, 2009
Previous Episode: 19th Round
Next Episode: 21st Round
Zhao Yun and Xiu/Liu Bei, along with ten other students of Dong Han Academy, are picked as soldiers to fight against Nan Xiong Nu High School and Bai Po Huang Jin High School. Despite knowing that Dong Zhuo cheated when he picked the cards, they can do nothing but obey. The Five Tiger Generals , Cao Cao, Ah Xiang, Diao Chan, Xiu/Liu Bei and Xiao Qiao enjoy their last days together before Zhao Yun and Xiu/Liu Bei set off to war. Once the army reaches destination, they fall into Dong Zhuo's trap and they are left to fend for themselves. Amidst the battle, Xiu/Liu Bei discovers something special about Zhao Yun.
External links
Edit
Ad blocker interference detected!
Wikia is a free-to-use site that makes money from advertising. We have a modified experience for viewers using ad blockers

Wikia is not accessible if you've made further modifications. Remove the custom ad blocker rule(s) and the page will load as expected.