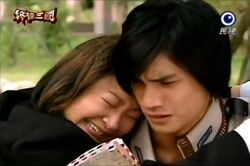 The 97th episode of the Zhong Ji series.
Episode Information
Edit
Series: K.O.3an Guo
Season: 02
Episode No. 21
Chinese: 第二十一回
Original Airdate July 17, 2009 / July 18, 2009
Previous Episode: 20th Round
Next Episode: 22nd Round
Dong Zhuo lays a trap for Xiu/Liu Bei and his team on their way to He Dong Institute in order to annihilate them. But then, Zhou Yu, Cao Cao and the Five Tiger Generals arrive to expand their power. Eventually, they all return home safely. Meanwhile, after many years of separation, Huang Zhong finally reunites with his mother, but also hears a shocking truth from her: she is a member of Huang Jin High School.
External links
Edit
Ad blocker interference detected!
Wikia is a free-to-use site that makes money from advertising. We have a modified experience for viewers using ad blockers

Wikia is not accessible if you've made further modifications. Remove the custom ad blocker rule(s) and the page will load as expected.