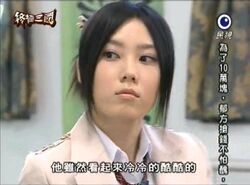 The 101st episode of the Zhong Ji series.
Episode Information
Edit
Series: K.O.3an Guo
Season: 02
Episode No: 25
Chinese: 第二十五回
Original Airdate: August 14, 2009 / August 15, 2009
Previous Episode: 24th Round
Next Episode: 26th Round
Xiao Qiao's older sister, Da Qiao transfers to Dong Han Academy to spy on Guan Yu while searching for Sun Ce, who went missing three days ago. Meanwhile, Ah Xiang notices a strange behavior from Xiu/Liu Bei when he is around Da Qiao. Dong Zhuo's alternate counterpart, Xia Liu, takes a trip to the Silver Dimension requested by Jiu Wu to assist Xiu/Liu Bei.
External links
Edit
Ad blocker interference detected!
Wikia is a free-to-use site that makes money from advertising. We have a modified experience for viewers using ad blockers

Wikia is not accessible if you've made further modifications. Remove the custom ad blocker rule(s) and the page will load as expected.