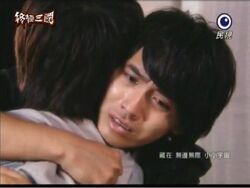 The 105th episode of the
Zhong Ji
series.
Series: K.O.3an Guo
Season: 02
Episode No: 29
Chinese: 第二十九回
Original Airdate: September 11, 2009 / September 12, 2009
Previous Episode: 28th Round
Next Episode: 30th Round
Xiu shares a tearful goodbye with his sworn brothers and Ah Xiang. Meanwhile, Liu Bei plots to joins forces with Lu Bu to destroy both Dong Zhuo and Cao Cao.
Zhang Fei tries to stop Xiu from leaving, but is unsuccessful as he gets frozen by magic.
External links
Edit
Ad blocker interference detected!
Wikia is a free-to-use site that makes money from advertising. We have a modified experience for viewers using ad blockers

Wikia is not accessible if you've made further modifications. Remove the custom ad blocker rule(s) and the page will load as expected.