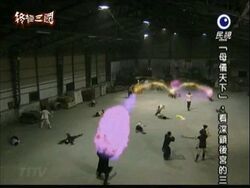 The 109th episode of the Zhong Ji series.
This is the beginning of the third season.
Series: K.O.3an Guo
Season: 03
Episode No: 33
Chinese: 第三十三回
Original Airdate: October 9, 2009 / October 10, 2009
Previous Episode: 32nd Round
Next Episode: 34th Round
Xiu/Liu Bei draws power from the Soul Calming Melody to restore Guan Yu's powers. During the experiment, the melody somehow provokes the evil essences in Lu Bu and Dong Zhuo and draws everyone into battle. Zhang Fei, Zhao Yun, Ma Chao, Huang Zhong and Ah Xiang work hard to protect them from being interrupted, but Guan Yu disrupts the experiment himself to protect his friends. The next day, Guan Yu begins to age rapidly as side effect from interrupting the experiment. Xiu/Liu Bei combines as many forces as he can to try the experiment one last time, which leads to a bloodbathing battle.
External links
Edit
Ad blocker interference detected!
Wikia is a free-to-use site that makes money from advertising. We have a modified experience for viewers using ad blockers

Wikia is not accessible if you've made further modifications. Remove the custom ad blocker rule(s) and the page will load as expected.