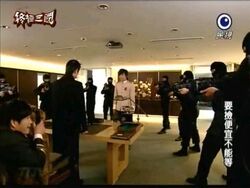 The 111th episode of the Zhong Ji series.
Series: K.O.3an Guo
Season: 03
Episode No: 36
Chinese: 第三十六回
Original Airdate: October 30, 2009 / October 31, 2009
Previous Episode: 35th Round
Next Episode: 37th Round
Dong Zhuo attacks the school union from the inside and dethrones Liu Bian. After Dong Zhuo over take Liu Bian, he fires away the Cao Family. When he plans to attack the others, Lu Bu stops him to take over the throne. With everyone's help, Dong Zhuo fails to fire away the Cao Family. Having become more and more evil by the dark powers seeping inside him, Lu Bu tries to kill Dong Zhuo, only to fail. Meanwhile, Zuo Ci appears for the first time.
External links
Edit
Ad blocker interference detected!
Wikia is a free-to-use site that makes money from advertising. We have a modified experience for viewers using ad blockers

Wikia is not accessible if you've made further modifications. Remove the custom ad blocker rule(s) and the page will load as expected.