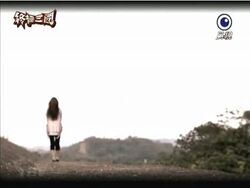 The 112th episode of the Zhong Ji series.
Series: K.O.3an Guo
Season: 03
Episode No: 37
Chinese: 第三十七回
Original Airdate: November 6, 2009 / November 7, 2009
Previous Episode: 36th Round
Next Episode: 38th Round
Shocking news devastates Diao Chan when she hears that Wang Yun has been assassinated by Dong Zhuo while attempting to make a compromise. Yuan Shao runs 17 school armies against Dong Zhuo. After an epic battle between the Five Tiger Generals and Dong Zhuo, they finally defeat him once and for all. Dong Zhuo tries to retrieve his powers, but Diao Chan runs into the middle and pushes him off into the ocean along with herself.
External links
Edit
Ad blocker interference detected!
Wikia is a free-to-use site that makes money from advertising. We have a modified experience for viewers using ad blockers

Wikia is not accessible if you've made further modifications. Remove the custom ad blocker rule(s) and the page will load as expected.