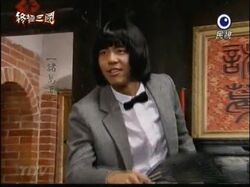 The 113th episode of the Zhong Ji series.
Series: K.O.3an Guo
Season: 03
Episode No: 38
Chinese: 第三十八回
Original Airdate: November 13, 2009 / November 14, 2009
Previous Episode: 37th Round
Next Episode: 39th Round
All schools are finally returning to normal after Dong Zhuo's reign was deteriorated. However, Yuan Shao takes the landmark of Dong Han Academy to himself while prompting to bend all other schools to his will. In order to win it back, they enlist the help of Zhuge Liang, the man who's known for his incredible wisdom. Meanwhile, Xiao Qiao is having problems of her own, now that she has three guys to choose: Cao Cao, Zhou Yu and Zhao Yun.
The background color of the opening credits changes again in this episode.
This episode marks the first appearance of Zhuge Liang.
Ma Chao, Huang Zhong and Zhao Yun temporarily depart from the show in this episode.
External links
Edit
Ad blocker interference detected!
Wikia is a free-to-use site that makes money from advertising. We have a modified experience for viewers using ad blockers

Wikia is not accessible if you've made further modifications. Remove the custom ad blocker rule(s) and the page will load as expected.