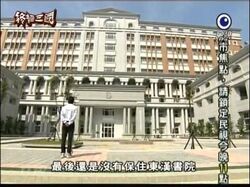 The 114th episode of the Zhong Ji series.
Series: K.O.3an Guo
Season: 03
Episode No: 40
Chinese: 第四十回
Original Airdate: November 27, 2009 / November 28, 2009
Previous Episode: 39th Round
Next Episode: 41st Round
Sun Quan and Zhou Yu attempt to make Xiu/Liu Bei stay in Jiang Dong. Meanwhile, Dong Han Academy is officially banned by Yuan Shao's politics. Due to a misunderstanding between Sun Quan and Xiu/Liu Bei earlier, Sun Quan is forced to loan Jingzhou Building to the students of Dong Han Academy, allowing them to continue their education. This decision forces Xiao Qiao to return to Zhou Yu's arms. Meanwhile, Xiu/Liu Bei makes a stunning discovery and Zhuge Liang drops his potion to provide intelligence after he swallowed part of it. Shortly after he dropped it, someone comes to pick it up.
External links
Edit
Ad blocker interference detected!
Wikia is a free-to-use site that makes money from advertising. We have a modified experience for viewers using ad blockers

Wikia is not accessible if you've made further modifications. Remove the custom ad blocker rule(s) and the page will load as expected.