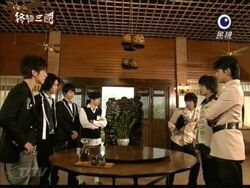 The 115th episode of the Zhong Ji series.
Series: K.O.3an Guo
Season: 03
Episode No: 41
Chinese: 第四十一回
Original Airdate: December 4, 2009 / December 5, 2009
Previous Episode: 40th Round
Next Episode: 42nd Round
All Dong Han students have moved into Jiang Dong High School's building to continue their education, but nothing remains the same now that they are using other people's places. The students and faculty of Jiang Dong continuously give the students of Dong Han a hard time. Xiu/Liu Bei and Cao Cao's relationship is seriously strained when Cao Cao finds out that Xiu/Liu Bei is in command of a secret army that was given to him by Liu Bian a while ago. Meanwhile, Zhou Yu faces jealousy when he catches Xiao Qiao and Cao Cao together.
External links
Edit
Ad blocker interference detected!
Wikia is a free-to-use site that makes money from advertising. We have a modified experience for viewers using ad blockers

Wikia is not accessible if you've made further modifications. Remove the custom ad blocker rule(s) and the page will load as expected.