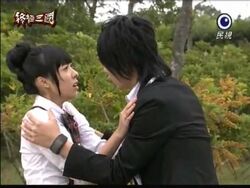 The 116th episode of the Zhong Ji series.
Series: K.O.3an Guo
Season: 03
Episode No: 42
Chinese: 第四十二回
Original Airdate: December 11, 2009 / December 12, 2009
Previous Episode: 41st Round
Next Episode: 43rd Round
Zhuge Liang, forced to come up with ideas to solve their pressing problems, uses ideas from the graffiti to figure things out. How will the event turn out? Sun Quan figures them out and tracks them down before they could escape. Zhou Yu protects Xiao Qiao with his life. How will Cao Cao, Xiao Qiao and Zhou Yu solve their love-triangle? Meanwhile, the culprit who sent a secret agent to attack Sun Quan is caught... it's Da Qiao.
External links
Edit
Ad blocker interference detected!
Wikia is a free-to-use site that makes money from advertising. We have a modified experience for viewers using ad blockers

Wikia is not accessible if you've made further modifications. Remove the custom ad blocker rule(s) and the page will load as expected.