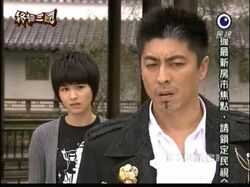 The 120th episode of the Zhong Ji series.
Series: K.O.3an Guo
Season: 03
Episode No: 46
Chinese: 第四十六回
Original Airdate: January 8, 2010 / January 9, 2010
Previous Episode: 45th Round
Next Episode: 47th Round
Cao Cao returns to Jiang Dong after a victorious battle against Yuan Shao, and reclaims Dong Han Academy into his hands. Xiu/Liu Bei and Xiang Ah Xiang return to meet up with their friends, but not before Ah Xiang shares a difficult goodbye with her father and brother. However, her father has other plans for them.
External links
Edit
Ad blocker interference detected!
Wikia is a free-to-use site that makes money from advertising. We have a modified experience for viewers using ad blockers

Wikia is not accessible if you've made further modifications. Remove the custom ad blocker rule(s) and the page will load as expected.