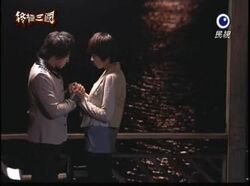 The 121st episode of the
Zhong Ji
series.
Series: K.O.3an Guo
Season: 03
Episode No: 47
Chinese: 第四十七回
Original Airdate: January 15, 2010 / January 16, 2010
Previous Episode: 46th Round
Next Episode: 48th Round
Xiu/Liu Bei must deal with the idea of being with Ah Xiang permanently or give up their relationship to maintain the world order. Enburdened by Ah Xiang's pain about his secrecy, he tells Ah Xiang his true identity. Meanwhile, Sun Ce returns home after a victorious war, only to meet his doom on his way home.
External links
Edit
Ad blocker interference detected!
Wikia is a free-to-use site that makes money from advertising. We have a modified experience for viewers using ad blockers

Wikia is not accessible if you've made further modifications. Remove the custom ad blocker rule(s) and the page will load as expected.