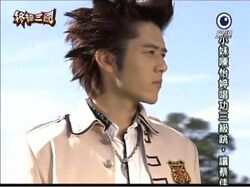 The 122nd episode of the Zhong Ji series.
Series: K.O.3an Guo
Season: 03
Episode No: 48
Chinese: 第四十八回
Original Airdate: January 22, 2010 / January 23, 2010
Previous Episode: 47th Round
Next Episode: 49th Round
Everyone prepares to return to Dong Han Academy and help Cao Cao defend their school. Ah Xiang, however, decides to stay behind to support her family after she learns of her brother, Sun Quan's deafness.
When the students of Dong Han become thwarted by Sun Quan's hinder, Guan Yu suddenly appears out of nowhere to help.
External links
Edit
Ad blocker interference detected!
Wikia is a free-to-use site that makes money from advertising. We have a modified experience for viewers using ad blockers

Wikia is not accessible if you've made further modifications. Remove the custom ad blocker rule(s) and the page will load as expected.