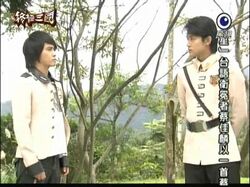 The 123rd episode of the Zhong Ji series.
Series: K.O.3an Guo
Season: 03
Episode No: 49
Chinese: 第四十九回
Original Airdate: January 29, 2010 / January 30, 2010
Previous Episode: 48th Round
Next Episode: 50th Round
Xiu/Liu Bei meets up with Cao Cao to declare peace on Jiang Dong's behalf, but the conversation takes a disastrous turn, Cao Cao now turns against everyone he held close to for his goal to claim power. Meanwhile, Zhao Yun, Ma Chao, and Huang Zhong return from Liangzhou and join the others at Jiang Dong.
External links
Edit
Ad blocker interference detected!
Wikia is a free-to-use site that makes money from advertising. We have a modified experience for viewers using ad blockers

Wikia is not accessible if you've made further modifications. Remove the custom ad blocker rule(s) and the page will load as expected.