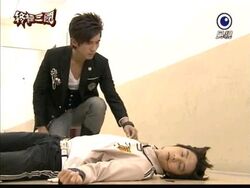 The 125th episode of the Zhong Ji series.
Series: K.O.3an Guo
Season: 03
Episode No: 51
Chinese: 第五十一回
Original Airdate: February 12, 2010 / February 13, 2010
Previous Episode: 49th Round
Next Episode: 52nd Round
A fight erupts between Sun Quan and Guan Yu when Sun Quan attempts to take back Jingzhou Building, but Xiu/Liu Bei rebels against their order. Meanwhile, Zhang Fei gets attacked by Jiang Dong's soldiers and Ah Xiang is taken away by her father.
External links
Edit
Ad blocker interference detected!
Wikia is a free-to-use site that makes money from advertising. We have a modified experience for viewers using ad blockers

Wikia is not accessible if you've made further modifications. Remove the custom ad blocker rule(s) and the page will load as expected.