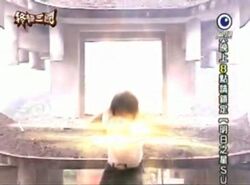 The 83th episode of the Zhong Ji series.
Episode Information
Edit
Series: K.O.3an Guo
Season: 01
Episode No: 07
Chinese: 第七回
Original Airdate: April 10, 2009 / April 11, 2009
Previous Episode: 6th Round
Next Episode: 8th Round
With Principal Wang in a comatose state, Dong Zhuo takes over the school and twists it to his bidding.
The Five Tiger Generals are in the middle of recovery from their injuries in 6th Round. Cao Cao asks Hua Tuo to impersonate Diao Chan in order to get past the guards watching Principal Wang and examine Principal Wang's body. Though he successfully gets past the security guards, he finds no information that may help restore Principal Wang's health.
After instructions and medication from Hua Tuo, the Five Tiger Generals finally recover their healths and powers. However, soon afterwards, Li Ru, Dong Zhuo's son-in-law, concocts a plan to destroy the Five Tiger Generals by luring Guan Yu into a trap. However, the lured one turns out to be Zhao Yun.
When the boys find out about Zhao Yun's dangerous situation, they run straight into the enemy's trap. The situation forces Xiu/Liu Bei to use his powers in front of his friends, which almost reveals his true identity in the process. Thankfully, Zhang Fei helps him cover it.
The next day, they discover that Zhao Yun has lost his powers, although he tries to hide it from them. Later, Zhao Yun runs into Xiao Qiao and she finds out about it.
External links
Edit
Ad blocker interference detected!
Wikia is a free-to-use site that makes money from advertising. We have a modified experience for viewers using ad blockers

Wikia is not accessible if you've made further modifications. Remove the custom ad blocker rule(s) and the page will load as expected.