a Chord is the leading vocalist of the band Dong Cheng Wei (東城衛), which he continued to be until he was promoted to be the new leader of Bei Cheng Wei (北城衛) after the previous leader was killed by Zack and Xia Tian decides to join Dong Cheng Wei as the new leading vocalist. He is somewhat of a funny guy, who does not know the appropriate time to talk.
Although a Chord is part of a supernatural army, he does not manifest any special ability or weapon until Lan Ling Wang begins to sneak around his team and the Xia family and he reveals his powers for the first time.
Personality
Edit
a Chord always makes lame jokes and talks at the wrong time most of the time. He also does random things at random times, such as he once sat on Xia Yu's lap when he visited the Xia's house.
He is also impatient, once he froze Dao Ba Jie Sen after an argument.
He likes to talk and joke about his (or Dong Cheng Wei's) fans.
Relationships
Edit
Lan Ling Wang
He did not like Lan Ling Wang initially, preferring to let him die, because he was targeted by him when they first met. But he learns to overcome that issue after everything that Lan Ling Wang did to save their world.
Jiu Wu
He and Jiu Wu were classmates in elementary school, but a Chord always bullied him, which frightened him a little bit when he found out that Jiu Wu was the new ruler of "Iron Imperial Army" (鐵克禁衛軍).
Xiu
The two of them are always counted as partners and friends, willing to help each other when the other one is in a bind. He kept in touch with Xiu and his old team after he was promoted as the new leader of Bei Cheng Wei.
Specialty
Edit
a Chord has displayed the ability of spellcasting, specifically the freezing spell when he helped Xiu immobilize Xia Tian in Round 39. 
Gui Zhan Tuning Fork (鬼戰音叉)
Edit
a Chord's primary weapon is a tuning fork called the "Gui Zhan Tuning Fork" (鬼戰音叉), which he uses to attack with sound waves.

Alternate Counterpart
Edit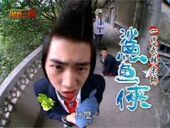 The Gold Dimension
Edit
A Chord's alternate counterpart in the Gold Dimension is Sha Yu (鯊魚 / Shark). He seems to know of Da Dong's existence, but it is unconfirmed whether he knows of his Gold Dimensional counterpart's or not. They have the same personality.
Ad blocker interference detected!
Wikia is a free-to-use site that makes money from advertising. We have a modified experience for viewers using ad blockers

Wikia is not accessible if you've made further modifications. Remove the custom ad blocker rule(s) and the page will load as expected.