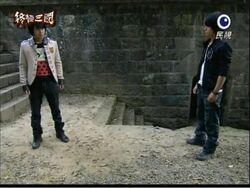 Chinese: 分身
Pronunciation: Fen Shen
In (almost) every dimension a person is born with a separate counterpart, be they power-user, muggle or humanoid demon. These persons are each other's doppelganger in their respective dimensions.
If a person loses his power, he can use his alternate counterpart to restore it by letting him transfer some of his power to him. This is what motivates the beginning story of The X-Family (終極一家).
Side Effects of Encounter
Edit
When two counterparts come close to each other, the stronger counterpart will weaken the other one until he disappears. In this tendency, if the stronger counterpart is evil, he will absorb the weaker counterpart's power or let him be weakened to death. However, should the strong one be good, he will automatically transfer his powers to the weaker one upon touching him. But if that happens, the stronger counterpart's powers will also weaken, which may disable his ability to cross dimensions.
Double Counterparts
Edit
It has occurred on occasions that a person has more than one alternate counterpart in certain dimension. For instance, Cai Yun Han had Han and Bing Xin in the Iron Dimension.
List of doppelgangers
Edit
In K.O.3an Guo, Xiu switched identities with Liu Bei after he got injured by a gigantic rock that fell down on him.
See also
Edit
Ad blocker interference detected!
Wikia is a free-to-use site that makes money from advertising. We have a modified experience for viewers using ad blockers

Wikia is not accessible if you've made further modifications. Remove the custom ad blocker rule(s) and the page will load as expected.