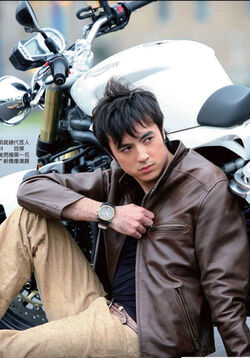 Name: 班傑 / Ban Jie
Chinese name: 王宏文 / Wang Hong Wen
English name: Benjamin Wang
Profession: Actor, model & singer
Birthdate: 1982-May-20
Height: 183cm
Weight: 68kg
Star sign: Taurus
Blood type: O
Waist: 30
Shoe Size: 9
Bust: 37
Hips: 38
Biography
Edit
Benji, true name Benjamin Wang, is the portrayer of Zhao Yun in K.O.3an Guo. Because of his martial arts skills, he was picked for the show.
Benji is also a model of the Eelin Model Agency and leader of music band, Wu Hu Jiang, which was formed in between late 2008 and early 2009.
He is of half-American and half-Chinese ancestry.
Early Life
Edit
Benji's father is from Taiwan and his mother is from Boston. Benji grew up in Boston and attended the University of Massachusetts Boston, where he majored in Political Science. Prior to enrolling in UMASS, he spent two years between Taiwan and China studying Chinese and acting. In 2002 he placed third in Men's Uno Model Contest in Taiwan. After college graduation, he returned to Taiwan and formally began pursuing a career in both modeling and acting. At the moment he is heading Team Tiger (Wu Hu Jiang, 武虎將), a singing and dancing group that include his fellow cast members from the hit TV series K.O.3anguo.
An avid fan of Kung Fu, Benji has studied and practiced martial arts since age 8. During his stay in China he continued his training, and at UMASS he formed a martial arts society and taught hundreds of students. Currently he is studying under Master Chen Wen Tieh (曾文鐵師傅) in Taiwan. He is proficient in many forms of martial arts, including Taekwondo, Karate, as well as Sanshou, Tai-chi, Qigong, Wing chun and various other Chinese Wushu forms. In 2002 he placed second in the short weapon competition at the Golden Lion International Martial Arts Festival held in Malaysia. He also participated in several Mixed Martial Arts competitions in the Boston area.
Filmography
Edit
2008
2009
2010
Love Buffet as Male Diner
2011
External Links
Edit
Ad blocker interference detected!
Wikia is a free-to-use site that makes money from advertising. We have a modified experience for viewers using ad blockers

Wikia is not accessible if you've made further modifications. Remove the custom ad blocker rule(s) and the page will load as expected.