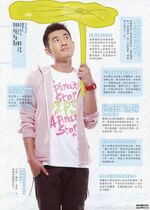 Bo Yan (博焱) (born Lin Bo Yan (林伯彥), 1987, August 27) is a Taiwanese actor, model and singer. He portrayed the role of Zhang Fei in K.O.3an Guo.
He was also a member of Wu Hu Jiang, until he resigned in late 2009.
Aside from his entertainment business, Bo Yan is also student of Chinese Culture University.
Name: 林伯彥 / Lin Bo Yan
English name: David Lin
Also known as: 博焱 / Bo Yan
Profession: Actor, model and singer
Birthdate: 1987, August 27
Birthplace: Taiwan
Height: 186cm
Weight: 78kg
Blood type: AB

Filmography
Edit
2008
2009
2010
The M Riders (萌學園之萌騎士傳奇) - Lie Yan Jian Ni (烈焱堅尼)
Love Buffet as Male Diner #3
2011
Hayate The Combat Butler - Yuan Ye Feng 袁也楓
2013
Boys Can Fly 刺蝟男孩 - Xiao Cai 

小蔡

The Queen 女王的誕生 - Tang Yu Cheng 

唐育成
Participated in Nylon Chen's music video, Paradise.
External Links
Edit
Ad blocker interference detected!
Wikia is a free-to-use site that makes money from advertising. We have a modified experience for viewers using ad blockers

Wikia is not accessible if you've made further modifications. Remove the custom ad blocker rule(s) and the page will load as expected.