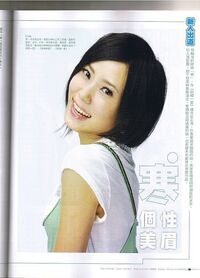 Name: 蔡芷紜 (Cai Zhi Yun)
Also known as: 寒 (Han) / 蔡函岑 (Cai Han Cen)
Profession: Actress and singer
Birthdate: 1985-Dec-24
Birthplace: Taiwan
Height: 164cm
Star sign: Capricorn
Chinese zodiac: Ox
Family: Younger sister Cai Yi Zhen
Talent agency: Comic International Productions Co., Ltd. 可米製作
Biography
Edit
Cai Zhi Yun is the portrayer of Cai Yun Han in KO One and Han Ke La Ma Han in The X-Family. In mid-2009, she takes the role of Da Qiao in the threequel: K.O.3an Guo.
Her little sister, Cai Yi Zhen is also the portrayer of Cai Wu Xiong in KO One and Xiao Qiao in K.O.3an Guo.
Filmography
Edit
2005
2006
Hua Yang Shao Nian Shao Nu (花樣少年少女) as Mei Xiao Xu (梅曉緒)
2007
2008
Mysterious Incredible Terminator (霹靂MIT) as Huang Xin Yi (黄心怡)
2009
2014
2010
The M Riders (萌學園之萌騎士傳奇) as Princess Nai Ya (奈亞公主) / Wu Ke Nana
Love Buffet as Female Diner
Ad blocker interference detected!
Wikia is a free-to-use site that makes money from advertising. We have a modified experience for viewers using ad blockers

Wikia is not accessible if you've made further modifications. Remove the custom ad blocker rule(s) and the page will load as expected.