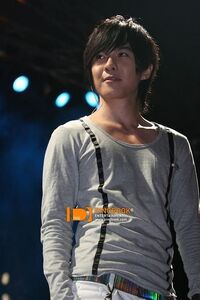 Danson Tang (Chinese: 唐禹哲; Pinyin: Táng Yǔzhé; born September 2, 1984) is the actor of Lei Ke Si from KO One and Xia Yu from The X-Family. He is a Taiwanese actor and singer, who started his career as a model before pursuing an acting career and later singing. He can speak Mandarin, Taiwanese and reportedly English.
Because Danson played an important part in the Taiwanese series KO One, which featured the popular band Fahrenheit, he was easily mistaken to be one of the members, since the band was based upon four members and three of four members played the lead roles in KO One.
Chinese Name: 唐禹哲 / Táng Yǔzhé
English name: Danson Tang
Birthdate: 1984-Sep-02
Profession: Actor and singer
Height: 178cm
Weight: 64kg
Star sign: Virgo
Blood type: O
Filmography
Edit
Television series
Edit
2004
Blazing Courage (火線任務) as Tang Yun Sheng (唐雲生)
2005
2006
Lucky Brand Refrigerator (幸福牌電冰箱) as Bo Bo (波波)
Hanazakarino Kimitachihe (花樣少年少女) as Liang Si Nan (梁思南) (based on Minami Nanba)
2007
2008
Rolling Love (翻滾吧!蛋炒飯) as Leng Lie (冷冽)
2009
Music Say Love (我用音樂說愛你) as Jiang Ming Hao (江明皓)
2015
Murphy's law of love (莫非,這就是愛情) as Ji Jia-wei (紀家尉)
2010
Armor Hero Emperor (鎧甲勇士之帝皇俠) as Zi Yang (子陽)
Discography
Edit
Studio albums
Edit
1st. 愛我 (lit. Love Me)
Released: August 17, 2007
Label: Avex Trax Taiwan
Language: Mandarin
2nd. D新引力 (D's New Attraction)
Released: January 16, 2009
Language: Mandarin
Soundtrack contributions
Edit
Zui Ai Hai Shi Ni / 最愛還是你 (Still Love You the Most) - The X-Family Ending theme
Rumored Appearance
Edit
In early 2009, Danson was rumored by certain fans to make an appearance in the second sequel of KO One: K.O.3an Guo, as a powerful character named Sima Yi (司馬懿). The rumor was later removed as there was no specification to the idea.
External links
Edit
Ad blocker interference detected!
Wikia is a free-to-use site that makes money from advertising. We have a modified experience for viewers using ad blockers

Wikia is not accessible if you've made further modifications. Remove the custom ad blocker rule(s) and the page will load as expected.