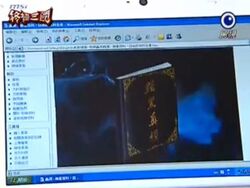 Chinese: 暗黑真經
Pronunciation: An Hei Zhen Jing
An ancient script that contains the most powerful teachings of dark magic that can only be learned by the leader of the Nationwide School Union. It provides dark arts that allows people to walk in the world of demons safely as well as gain control over demons. Its magical arts can also provide contact between both worlds.
The scripture consists of nine methods to contact or control demons.
Only certified people may be able to learn its magic fully as it requires a fitting body to acquire its skills.
This script is guarded by the Pang family. The current guardian is Feng Chu.
Contents
Edit
Dong Zhuo and Ye Si Ti learned most of the scripture's contents prior to the beginning of K.O.3an Guo.
List of users
Edit
See also
Edit
Ad blocker interference detected!
Wikia is a free-to-use site that makes money from advertising. We have a modified experience for viewers using ad blockers

Wikia is not accessible if you've made further modifications. Remove the custom ad blocker rule(s) and the page will load as expected.