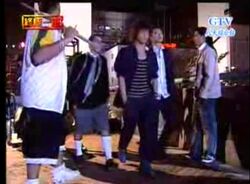 The 10th episode of the Zhong Ji series.
Episode Information
Edit
Series: KO One
Episode No. 10
Chinese: 第十集
Original Airdate January 28, 2006
Previous Episode: Episode 9
Next Episode: Episode 11
The teacher's relationship with her boyfriend makes Da Dong jealous and starts causing trouble in the class to upset her. Though everyone tries to reason with him, he refuses to listen.
External links
Edit
Ad blocker interference detected!
Wikia is a free-to-use site that makes money from advertising. We have a modified experience for viewers using ad blockers

Wikia is not accessible if you've made further modifications. Remove the custom ad blocker rule(s) and the page will load as expected.