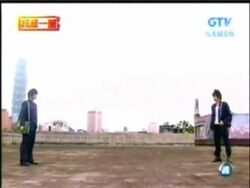 The 12th episode of the Zhong Ji series.
Episode Information
Edit
Series: KO One
Episode No. 12
Chinese: 第十二集
Original Airdate February 11, 2006
Previous Episode: Episode 11
Next Episode: Episode 13
After Da Dong find out that Xiao Yu has given his cellphone number to An Qi, he finds out that Xiao Yu is also in love with her. This causes a serious relationship problem between the two best friends. Meanwhile, a new mystical force appears.
External links
Edit
Ad blocker interference detected!
Wikia is a free-to-use site that makes money from advertising. We have a modified experience for viewers using ad blockers

Wikia is not accessible if you've made further modifications. Remove the custom ad blocker rule(s) and the page will load as expected.