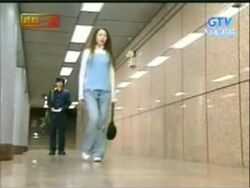 The 14th episode of the Zhong Ji series.
Episode Information
Edit
Series: KO One
Episode No. 14
Chinese: 第十四集
Original Airdate February 25, 2006
Previous Episode: Episode 13
Next Episode: Episode 15
The three boys realize that their enemy's target is really their teacher because she has potential to become a very powerful warrior. Da Dong's parents' team take her to safety. Meanwhile, Da Dong gets attacked. Da Dong's parents manage to store a device to protect him from the needle was injected within him by the enemy. An Qi returns to America. Da Dong finds out about her leaving a week after she left and runs out to asks Xiao Yu and the needle sets off immediately.
External links
Edit
Ad blocker interference detected!
Wikia is a free-to-use site that makes money from advertising. We have a modified experience for viewers using ad blockers

Wikia is not accessible if you've made further modifications. Remove the custom ad blocker rule(s) and the page will load as expected.