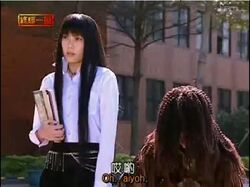 The 16th episode of the Zhong Ji series.
Episode Information
Edit
Series: KO One
Episode No. 16
Chinese: 第十六集
Original Airdate March 11, 2006
Previous Episode: Episode 15
Next Episode: Episode 17
Two sisters arrive at the school: Cai Yun Han (KO 7) and Cai Wu Xiong, who is extremely interested in Ya Se. Meanwhile, their friend Duan Chang Ren becomes their homeroom teacher.
External links
Edit
Ad blocker interference detected!
Wikia is a free-to-use site that makes money from advertising. We have a modified experience for viewers using ad blockers

Wikia is not accessible if you've made further modifications. Remove the custom ad blocker rule(s) and the page will load as expected.