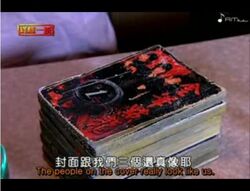 The 17th episode of the Zhong Ji series.
Episode Information
Edit
Series: KO One
Episode No. 17
Chinese: 第十七集
Original Airdate March 18, 2006
Previous Episode: Episode 16
Next Episode: Episode 18
Duan Chang Ren presents to the Ultimate Class the legendary comic series: The Golden Pen Touches the Dragon. In the meantime, the Sword-Locking Stone on Ya Se's sword breaks for no apparent reason. Duan Chang Ren discovers something strange about the principal.
External links
Edit
Ad blocker interference detected!
Wikia is a free-to-use site that makes money from advertising. We have a modified experience for viewers using ad blockers

Wikia is not accessible if you've made further modifications. Remove the custom ad blocker rule(s) and the page will load as expected.