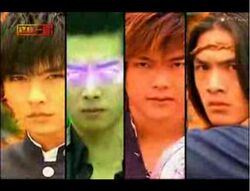 The 19th episode of the Zhong Ji series.
Episode Information
Edit
Series: KO One
Episode No. 19
Chinese: 第十九集
Original Airdate April 01, 2006
Previous Episode: Episode 18
Next Episode: Episode 20
Ya Se throws away his sword as a last resort to escape its control, but it returns and almost takes over him. Ji An reveals his identity as the Demon Fighter and attempts to vanquish Ya Se, but the other warriors arrive on time to stop him. At the last moment, Wu Xiong gives him her most valuable possession - the Bear Pearl. Wu Xiong gives the pearl to Wang Ya Se by kissing him.
External links
Edit
Ad blocker interference detected!
Wikia is a free-to-use site that makes money from advertising. We have a modified experience for viewers using ad blockers

Wikia is not accessible if you've made further modifications. Remove the custom ad blocker rule(s) and the page will load as expected.