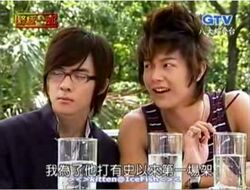 The 4th episode of the
Zhong Ji
series.
Episode Information
Edit
Series: KO One
Episode No. 04
Chinese: 第四集
Original Airdate December 17, 2005
Previous Episode: Episode 3
Next Episode: Episode 5
The class find out that Lei Ke Si has gone poor and is working in a pub where he is abused by his superiors. They all decide to help get him out. However, Ya Se suspects something strange from Lei Ke Si and decides to go on a private investigation afterward.
External links
Edit
Ad blocker interference detected!
Wikia is a free-to-use site that makes money from advertising. We have a modified experience for viewers using ad blockers

Wikia is not accessible if you've made further modifications. Remove the custom ad blocker rule(s) and the page will load as expected.