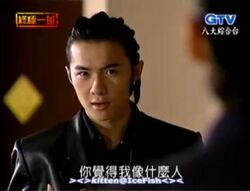 The 5th episode of the
Zhong Ji
series.
Episode Information
Edit
Series: KO One
Episode No. 05
Chinese: 第五集
Original Airdate December 24, 2005
Previous Episode: Episode 4
Next Episode: Episode 6
Ya Se finds out that Lei Ke Si is actually the owner of the pub he was presumably working at and revealed himself as KO 2 - the second strongest fighter on the KO Rank. Lei Ke Si plays mischievous tricks on Ya Se and almost gets him and Da Dong into a fight. Though they stop, their friendship is broken. Ya Se leaves the school the promise "I'll be back."
External links
Edit
Ad blocker interference detected!
Wikia is a free-to-use site that makes money from advertising. We have a modified experience for viewers using ad blockers

Wikia is not accessible if you've made further modifications. Remove the custom ad blocker rule(s) and the page will load as expected.