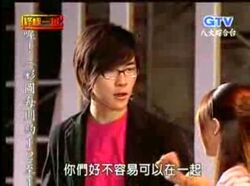 The 7th episode of the Zhong Ji series.
Episode Information
Edit
Series: KO One
Episode No. 07
Chinese: 第七集
Original Airdate January 07, 2006
Previous Episode: Episode 6
Next Episode: Episode 8
Lei Ke Si tries to steal An Qi's heart by attacking their homeroom teacher and letting Da Dong think that An Qi is responsible. However, the teacher proves her innocence. When An Qi reveals the reason to why she likes Da Dong so much, Lei Ke Si's grudge against his friend rises to a maximum point. He decides to take on full action - to kill both Da Dong and An Qi.
External links
Edit
Ad blocker interference detected!
Wikia is a free-to-use site that makes money from advertising. We have a modified experience for viewers using ad blockers

Wikia is not accessible if you've made further modifications. Remove the custom ad blocker rule(s) and the page will load as expected.