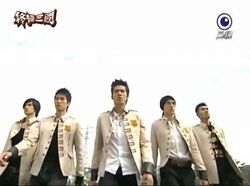 You may be looking for Wu Hu Jiang (music band)...
Chinese: 五虎將.

Pinyin: Wu Hu Jiang.
The Five Tiger Generals are a small group of five powerful students dubbed by Wang Yun to serve as Dong Han Academy's protectors and warriors. They were formed after Cao Cao gathered them up to break the Eight Doors Golden Lock Formation that was formed around their school to prevent everyone from entering.
Affiliates
Edit
Xiu / Liu Bei: Sworn brother to Guan Yu and Zhang Fei. Serves as the team's leader. Helps the team with his knowledge and sometimes techniques that are supposed to be kept secret.
Cao Cao: Student body president of Dong Han Academy. Serves as the team's strategist and sometimes leader.
Sun Shang Xiang: Daughter of Jiang Dong High School's principal. Transferred to Dong Han Academy after she helped save Guan Yu and Cao Cao from a death sentence.
Xiao Qiao: Xiao Qiao becomes helpful when Zhao Yun lost his strength.
Diao Chan: Principal Wang's adoptive daughter.
Lu Bu: Indirect ally.
Feng Chu: Once helped teleport the Five Tiger Generals, Xiu/Liu Bei and Xiao Qiao to Jiang Dong High School.
Dong Cheng Wei: Xiu's music league from the Iron Dimension. They serve as the Five Tiger Generals' indirect allies.
Jing Xiang Tuan: Sun Shang Xiang's army.
Champion: Jiang Dong High School's battling music band and commander of the Jiang Dong army.
Da Qiao: Xiao Qiao's older sister and an honorary student from Jiang Dong High School.
Zhuge Liang: The head strategist for Xiu/Liu Bei and the Five Tiger Generals.
Guan Yu and Zhao Yun are the strongest of the Tiger Generals.
Zhang Fei's powers exceed Zhao Yun's when his face turns black.
Ad blocker interference detected!
Wikia is a free-to-use site that makes money from advertising. We have a modified experience for viewers using ad blockers

Wikia is not accessible if you've made further modifications. Remove the custom ad blocker rule(s) and the page will load as expected.