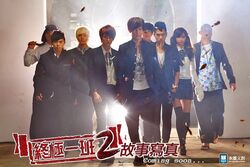 KO One Return (終極一班2) is the fourth of the Zhongji series, continues the story of KO One. It was aired on December 26, 2012. This series is a midquel of K.O.3an Guo.[1]
Chinese title:終極一班 / Zhōng Jí Yī Bān
English title: KO One Return
Broadcst Network:GTV
Broadcast Period:December 26, 2012 - February 5, 2013
Air time:22:30 - 23:30
Genre:School, fantasy, gangster, comedy, action, romance
Opening theme: Fa Biao (發飆) by SpeXial
Ending theme: Yi Ge Ren Xiang Zhe Yi Ge Ren (一個人想著一個人) by Pets Ceng
Preceded by: K.O.3an Guo
Followed by: KO One Re-act
Official website: Official website on GTV
Wang Da Dong is on his way to transporting Liu Bei to the Iron Dimension when a timequake sends them both into different places of time. Da Dong wakes up to find himself 10 years later in the Gold Dimension, where he and every known power-user of the last generations have gone missing. Worse, his powers have somehow disappeared.
He then infiltrates the new generation of the Ultimate Class to investigate the reason, but runs into trouble with the new leaders.
Main Cast
Edit
Episode list
Edit
Image
Title
Original Airdate
Episode
Synopsis
Class 1

December 26, 2012

1
Da Dong is on his way to transporting Liu Bei to the Iron Dimension when they encounter a timequake that sends him 10 years into the future of the Gold Dimension. After finding out everything that happened during his absence, Da Dong infiltrates Ba Le High School to investigate the reason of his friends and family's disappearances.
Class 2

December 27, 2012

2
In the new generation of the Ultimate Class, Da Dong causes a great deal of trouble to himself as he sits on the class leader's chair and accidentally gets accused of breaking into the teacher's house and stealing the class fee.
Class 3

December 28, 2012

3
Da Dong helps Zhong Wan Jun gather ten thousand TWD to help save a little girl's life, despite his own problems booming at hand. Through this experience, he begins to fit in with the rest of the class.
Class 4

December 31, 2012

4
Da Dong decides to investigate magical energy emanated from the school's broadcasting studio, but has to earn King's permission to be able to do that. For this reason, he participates in a competitive election to become the school's next Bara Prince. The only problem is Hua Linglong is also in the running, and King has his back.
Class 5

January 1, 2013

5
Matters worsen for Da Dong when his election tickets get stolen and are regarded as disqualified tickets. While filming a video for the election, Da Dong's interventions cause more harm to everyone than good. Whilst taking a break from shooting, he learns about Hua Linglong's past and the reason for his determination to win the election.
Class 6

January 2, 2013

6
Da Dong is elected Bara Prince. He gives Hua Linglong a chance to say farewell to ex-girlfriend Lin Qingqing, who was hypnotised to forget him 2 years ago. In the end, Da Dong earns the chance to enter the studio, but is unable to find any lead of magical trails. By broadcasting his feelings and playing his favorite theme song to the entire school, he unknowingly saves a girl from jumping off a roof.
Class 7

January 3, 2013

7
The Guy's little sister moves in with him to avoid her father. While the Guy lacks the courage to confront his father and make his own decisions, Da Dong tries his best to help him. But things are not what they seem with his sister.
Class 8

January 4, 2013

8
Xiao Jie destroys the strings attached to King's piano in attempt to frame the Guy. Though she gets discovered, she still manages to make others believe she is innocent, except Da Dong. The situation worsens when she gets caught in her lie, and the class members must do something before she does.
Class 9

January 7, 2013

9
Jin Bao San and his friends are attacked by someone extremely powerful. While he wears a hoodie, Jin Bao San recognizes his weapon as Ares' Hand: the legendary weapon that was once wielded by Lei Ke Si and Ding Xiao Yu. Because Xiao Yu became its new owner the last time he saw it, Da Dong is led to believe that the attacker is Xiao Yu. This leads to the invisible student body president to riot against Da Dong. Hua Ling Long and the Guy agree to help Da Dong find Xiao Yu, but the situation changes and they both get captured.
Class 10

January 8, 2013

10
To protect his friends from getting hurt again, Da Dong leaves the Ultimate Class and out of Duan Chang Ren's place to find Xiao Yu. When he finally appears, Da Dong tries to reason with him, but he doesn't listen. The invisible student body president of Ba Le High School is revealed.
Class 11

January 9, 2013

11
The members of the Ultimate Class clash with the man who kidnapped Da Dong. After the situation was cleared, Ares' Hand is transported by the school faculty. Da Dong is determined to locate it.
Class 12

January 10, 2013

12
After the Ultimate Class  volunteered to do extra-curricular work and leave the school, the reporters crowd up in the boat that will take them to their island to see Lei Ting, so she disembarks and leaves. In the end, Lei Ting and Da Dong  spends a night together in the Lonely Mountain Islands and serves an old Grandmother who mistakes Da Dong and Lei Ting as her Grandson and Granddaughter-in-Law
Class 13

January 11, 2013

13
Lei Ting comes to Ba Le High School dresses as a girly girl to show off for Da Dong, but the 'Princess' from Peach High School interrupted it. Qiu Qiu and Zhong Wan Jun noticed that there was a man who fell from the sky and landed on the top of a bus, whispering Da Dong's name, and this guy was Xi Cheng Wei's commander Ling, who is Xiao Long Nu's older brother.
Class 14

January 14, 2013

14
Lei Ting confessed her feelings for Wang Da Dong, but did not answer back. The next day, Da Dong started to slightly forget his memories, which was caused by Ling's arrival. Da Dong suffers from even more memory loss, only remembering the things that happened when he first met the members of the Ultimate Class.
Class 15

January 15, 2013

15
Class 16

January 16, 2013

16
Class 17

January 17, 2013

17
Class 18

January 18, 2013

18
Class 19

January 21, 2013

19
Class 20

January 22, 2013

20
Class 21

January 23, 2013

21
Class 22

January 24, 2013

22
Class 23

January 25, 2013

23
Class 24

January 28, 2013

24
Class 25

January 29, 2013

25
Class 26

January 30, 2013

26
Class 27

January 31, 201

3
27
Class 28
February 1, 2013
28
Class 29
February 4, 2013
29
Class 30
February 5, 2013
30
References
Edit
External links
Edit