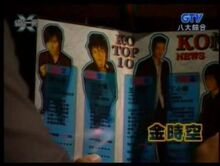 Chinese: KO榜
Pronunciation: KO Bang
KO Rank, also known as KO Ranking Chart, is a ranking system created by the Martial Arts Syndicate to lure young warriors into making themselves stronger and gain higher levels on the rank. Should the leader of the syndicate become interested in a person's potential, he would take control of him and bend him to his will. Should he think of that person as a threat, he would destroy him altogether.
KO Ranked Fighters
Edit
Ad blocker interference detected!
Wikia is a free-to-use site that makes money from advertising. We have a modified experience for viewers using ad blockers

Wikia is not accessible if you've made further modifications. Remove the custom ad blocker rule(s) and the page will load as expected.