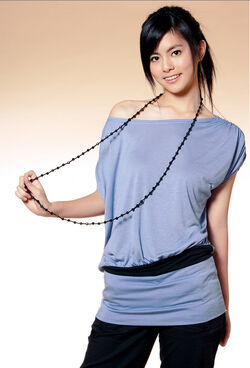 Name: 任容萱 / Ren Rong Xuan
English name: Kirsten
Also known as: Kimi Ren
Profession: Actress
Birthdate: 1988-Nov-22
Birthplace: Taipei, Taiwan
Height: 172cm
Weight: 52kg
Star sign: Scorpio
Blood type: O
Family: Older sister Selina Ren
Talent agency: Bada Entertainment
Biography
Edit
Kirsten Ren, Ren Rong Xuan, is the little sister of Selina from S.H.E.
She started her acting career in K.O.3an Guo, playing Diao Chan.
She also sang "Ai Zai Yi Qi" with Danson Tang in his first Album "Ai Wo", which was released in 2007.
Music Videos
Edit
Summer Wind- Yuan Wei Awakening
Healed- Z-Chen
無情兄- 黃乙玲
酒歌- 黃乙玲
感情線- 黃乙玲
Destined Love- Jarvis Wu
After You Leave- Jarvis Wu
Small Wish- Champion ft. Kimi
If I Become a Memory- Tank
Ad blocker interference detected!
Wikia is a free-to-use site that makes money from advertising. We have a modified experience for viewers using ad blockers

Wikia is not accessible if you've made further modifications. Remove the custom ad blocker rule(s) and the page will load as expected.