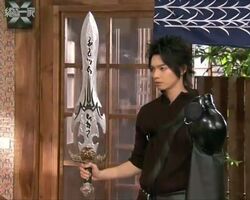 Chinese: 攔靈斬
Pronunciation: Lan Ling Zhan
A powerful sword used by Lan Ling Wang. It is obtained from the spiritual realm and therefore possesses very special abilities, such as contacting its owner or sensing a spirit nearby. There is an instruction manual stored inside the handle. Aside from fighting, the sword can also be altered to transfer energy.
Appendices
Edit
屬於蘭陵王的武器,它是從蘭陵王的爸爸傳入蘭陵王手中。它是屬於靈界的,主人危險時,攔靈斬會出來保護主人,蘭陵王還有一個絕招,就是弅劍大法,此大法的用法是把異能者所有的異能聚集於劍身發出超強的電流攻擎敵人,是屬於你我同歸於盡的瘋狂招式。
Ad blocker interference detected!
Wikia is a free-to-use site that makes money from advertising. We have a modified experience for viewers using ad blockers

Wikia is not accessible if you've made further modifications. Remove the custom ad blocker rule(s) and the page will load as expected.