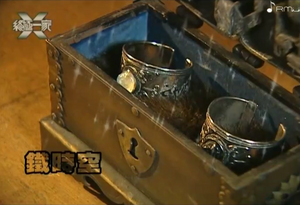 Chinese: 你農我農和氣生財止戰環
Pronunciation: Ni Nong Wo Nong He Qi Sheng Cai Zhi Zhan Huan
A pair of bracelets that have the power to make peace between two people for a year. If one of the wearers is in trouble, the other one will know when the bracelet loses its power. It will also lose power if the wearers' tendency to each other turns to pure love. The bracelets have a gem on the center, one black and one white. The items are destroyed when Han turns into Stone-Hearted Assassin (石心殺手) and splits it in two, thus caused the other bracelet to break along, however, the disappearance of Xiu's bracelet may refer to him having fallen in love with Han.
The bracelets are originally from the Gold Dimension (金時空).
Ad blocker interference detected!
Wikia is a free-to-use site that makes money from advertising. We have a modified experience for viewers using ad blockers

Wikia is not accessible if you've made further modifications. Remove the custom ad blocker rule(s) and the page will load as expected.