Pets Ceng (曾沛慈) is the actress of Sun Shang Xiang, Lei Ting and Jie Ke of the K.O. series.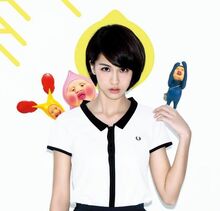 Chinese Name: 曾沛慈
Nickname: 傻大姐
Pronunciation: Tzeng Pei-tzi
English Name: Pets Ceng
Birthdate: October 21, 1984
Biography
Edit
Pets is a Taiwanese actress and singer. In late 2007, she participated in a singing contest of the second season of One Million Star. She left the competition in the 26th episode.
She played the role of Sun Shang Xiang in K.O.3an Guo.
She also sang the songs Gou Ai, Lei Le and Zhong Ji San Guo in the K.O.3an Guo Original Soundtrack (OST)
It has been confirmed on 2012, March 13 that she will be participating in the upcoming series, KO One 2, starring alongside Jiro Wang.
In late 2014, after 7 years, she finally released her first debut album "I'm Pets". Jiro Wang also made an appearance in her "Just lose it, hurts a little" (不過失去了一點點) music video to show his support for her long-awaited album.
TV Series
Edit
KO One Re-task (GTV, 2016)
Ming Ruo Xiao Xi (GTV, 2015)
Angel 'N' Devil (GTV, 2014)
You Light Up My Star (FTV, 2014)
KO One Re-act (GTV, 2013)
KO One Return (GTV, 2012)
They Are Flying (CTS, 2011)
Love Buffet (FTV, 2010, ep1)
K.O.3an Guo (FTV / GTV, 2009)
External links
Edit
Ad blocker interference detected!
Wikia is a free-to-use site that makes money from advertising. We have a modified experience for viewers using ad blockers

Wikia is not accessible if you've made further modifications. Remove the custom ad blocker rule(s) and the page will load as expected.