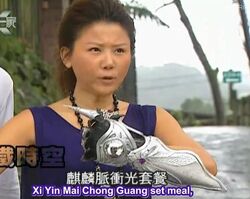 Chinese: 麒麟手
Pronunciation: Qilin Shou
A metal glove that Xia Xiong used as primary weapon in the early episodes.
It can provide powerful attacks in combination with other family members to cast several offensive spells. The glove was not seen again after the defeat of their first primary enemy, the Illusionary Eye.
Ad blocker interference detected!
Wikia is a free-to-use site that makes money from advertising. We have a modified experience for viewers using ad blockers

Wikia is not accessible if you've made further modifications. Remove the custom ad blocker rule(s) and the page will load as expected.