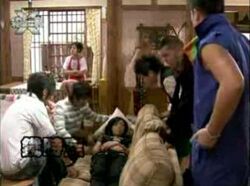 The 31th episode of the Zhong Ji series.
Episode Information
Edit
Series: The X-Family
Episode No. 10
Original Airdate August 21, 2007
Previous Episode: Round 9
Next Episode: Round 11
Xia Mei, the little sister, accidentally throws Han's drumsticks into the dimension of Mie. When Han realizes that her drumsticks have disappeared, she starts feeling dizzy and eventually collapse. According to the magical doctors, Han's spirit is transferred into her drumsticks and if they're not returned within two hours, she will die. Xia Tian, upon realizing there is no other choice, rushes into Mie and gets his life in danger.
External links
Edit
Ad blocker interference detected!
Wikia is a free-to-use site that makes money from advertising. We have a modified experience for viewers using ad blockers

Wikia is not accessible if you've made further modifications. Remove the custom ad blocker rule(s) and the page will load as expected.