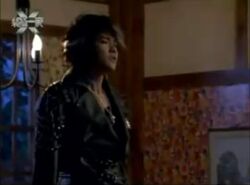 The 32th episode of the Zhong Ji series.
Episode Information
Edit
Series: The X-Family
Episode No. 11
Original Airdate: August 22, 2007
Previous Episode: Round 10
Next Episode: Round 12
Xia Tian trades Han's soul and weapons for his own. The demon within Mie later decides to let Xia Tian return to the human world, but in exchange, Gui Long, his evil half, becomes powerful enough to break free of the Feng Long Patch's seal and take over Xia Tian's body.
External links
Edit
Ad blocker interference detected!
Wikia is a free-to-use site that makes money from advertising. We have a modified experience for viewers using ad blockers

Wikia is not accessible if you've made further modifications. Remove the custom ad blocker rule(s) and the page will load as expected.