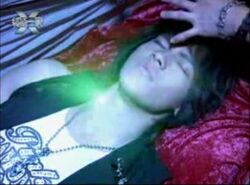 The 33th episode of the Zhong Ji series.
Episode Information
Edit
Series: The X-Family
Episode No. 12
Original Airdate August 23, 2007
Previous Episode: Round 11
Next Episode: Round 13
Xia Liu, the grandfather, calls for help from his friend Jiu Lai. He manages to suppress Gui Long, but tells them that Xia Tian must find a way to take over Gui Long and harness the demonic energy he absorbed while he was in Mie, otherwise Gui Long will take over his body permanently and their world will have another powerful opponent to fight. The Xia Family goes on an experiment to make Xia Tian stronger, but the results prove unsuccessful.
External links
Edit
Ad blocker interference detected!
Wikia is a free-to-use site that makes money from advertising. We have a modified experience for viewers using ad blockers

Wikia is not accessible if you've made further modifications. Remove the custom ad blocker rule(s) and the page will load as expected.