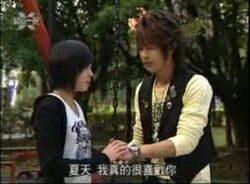 The 36th episode of the Zhong Ji series.
Episode Information
Edit
Series: The X-Family
Episode No. 15
Original Airdate August 28, 2007
Previous Episode: Round 14
Next Episode: Round 16
Xia Xiong sends Han away without revealing her whereabouts. Xia Tian desperately seeks to find her, but is unsuccessful. When Han finally returns, Xia Xiong reveals that she has merely sent her to the magical doctors' office to determine her amnesia. Xiu transfers his element of wind to Xia Tian and tells him that he must collect four other elements in order to become Ultimate Iron Man. When Xia Xiong gives Xia Tian the responsibility of being the lord of the house, Xia Yu (the eldest sibling) feels jealous; which grows even stronger when he finds out that she has always kept their family heirloom, Feng Long Card, inside of Xia Tian's body. Xia Yu starts seeing visions that keep telling him that he is no ordinary muggle.
External links
Edit
Ad blocker interference detected!
Wikia is a free-to-use site that makes money from advertising. We have a modified experience for viewers using ad blockers

Wikia is not accessible if you've made further modifications. Remove the custom ad blocker rule(s) and the page will load as expected.