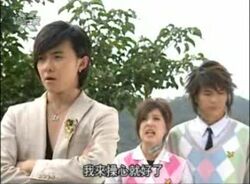 The 38th episode of the Zhong Ji series.
Episode Information
Edit
Series: The X-Family
Episode No. 17
Original Airdate: August 30, 2007
Previous Episode: Round 16
Next Episode: Round 18
Xia Yu continues to hunt power-users and absorb their powers. Later, he finally taps into his own power and kills the professor who gave him the ring. With a dream warning from their respective buddies, Xia Tian and Xia Mei discover that Xia Yu is the demonic power-user who has been attacking other power-users.
External links
Edit
Ad blocker interference detected!
Wikia is a free-to-use site that makes money from advertising. We have a modified experience for viewers using ad blockers

Wikia is not accessible if you've made further modifications. Remove the custom ad blocker rule(s) and the page will load as expected.